... my hair!
OK.. reader Very Nosey Girl has really got me interested in having a whole new look. Plus a lot of you have been saying NAY! to my blunt cut across the forehead bangs for ageeesss.
Since it's time for this year's rebonding ( I straighten my hair once a year)... I'll rethink my hairstyle.
Firstly, I need to tell you, I am a wash and go type of girl, my only hair indulgence is my rebonding once every 10months or so... which takes hours... but after that, my hair is fuss free for a year! I like that, and that's a big reason why I have been wearing my hair straight.
Secondly, I did think about having curls some years back but my stylist warned me about the upkeep ( can't just wash and go?? must blow dry??)... plus I have VERY fine hair.. so when you perm, it's likely to be frizzy and messy instead of having heavy curls :(
Anyone with experience on this?? What do you think?
(this one curled with curling tongs)
Next.. I am wondering- Should I get extensions put in before going to perm and cut my hair?? cos i know tht most of the girls with these big sexy curly styles, actually have extensions.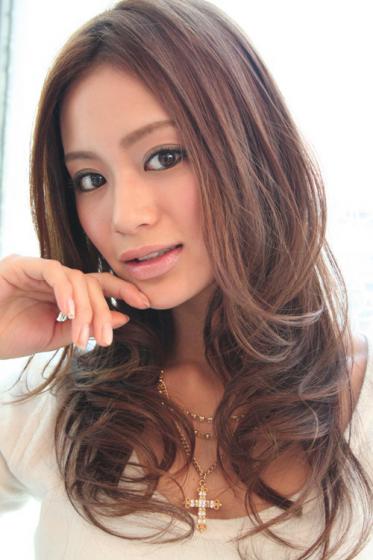 What's your view on extensions?? Damaging? Uncomfortable? or good move? Should I do it before or after the cut+perm??
Lastly... do these styles all look so good because it's actually the COLOUR? I haven't died my hair before... but I think dark brown or black hair will look shitty in curls??
and if I do colour my hair... what is the upkeep like?? Do I have to touch up every month??? Can I do it from home?? Is coloured hair a nightmare to maintain?
Yes... I am a lazy girl. But I am so sick of my hair. Would love to hear all your opinions and suggestions.
TIA!
P/s- the only thing confirmed for now is- I will have side swept fringe. I think this style, sideswept fringe, and the length of it (is that layered or not??) just keep straight ( not re-ebonded) would suit me and be pretty much no maintenance!
But then.. what about Colour??
OMG too many decisions!