Dear Holly Jean,
Help me! It's Valentine's day again, and I don't know what to get my girlfriend. I got her perfume last year.
Boring BF
-------------------
Dear Boring BF

Firstly... whatever you choose to give her on Valentine's Day, give it with love. Give what you want to, because you want to.
And to help you (and others) decide on what to get for their partners this Valentine's, here a list of the 3 best gifts (in my opinion) for guys and girls, based on 3 different budgets.
Holly Jean's Top 6 Gifts Of LOVE!
FOR GIRLS
Budget: Above $200
If you afford it, get her a charm bracelet with cute heart shaped dangling charms! She will loooovvvvveee it!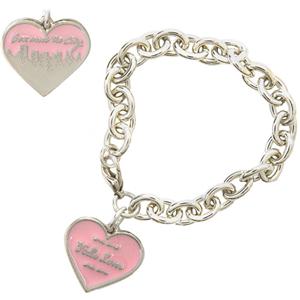 Though I think most charm bracelets look fab on girls...AgnesB and GUESS has some nice ones (exercise good taste please, some pieces there can be so tacky and frumpy) , and there's this brand Agatha Paris (saw it at Isetan Scotts, and Takashimaya level 1) which has such pretty pretty pieces! It's just as expensive as the ones in AgnesB though! A bracelet with just 3 simple charms will cost at least $250.
Whatever the brand you buy, just make sure you get a bracelet that's of good quality (don't want it to tarnish!) and one where she can add on more charms on her own as time goes by... otherwise she might tire of it.
Budget: $50-$200
Take a walk on the wild side! All male Strip act
Thunder from Down Under
is coming to Singapore this Valentine's and performing their 75minute revue at
Zirca
. Tickets available at Sistic.com from $65.
She'll have a laugh, it's a fun act to watch. (Don't worry, they don't strip all the way and it's not sleazy) . You might get trampled on by the hoards of high pointy heeled women who throng these acts though.
Budget: Below $50

If you're on a tight budget, get her one of those ultra cute, trendy, comfy, sexy Boyfriend's Shirts from Cotton On Body. I saw them there in white, light pink and baby blue.(They have outlets at Wisma, Palza Singapura, Parkway, etc). Things there are so affordable, you can throw in a naughty gstring and fluffy slippers to match (all 3 items together will still be under $50) !

FOR THE BOYS
Book a couple spa for the two of you spend time relaxing together. Spa Botanica at Sentosa has a lot of raves, or if you're on a slightly tighter budget than that, check out
Asian Spa at The Fullerton
.
Get him underwear... Do u prefer him in white Calvins? or Cute TopShop boxers? A thong!?
When he puts it on, make him do a dance for you :)
----------------------------------
HAPPY VALENTINE'S DAY Everyone!