Blogging as a career is one of the best life decisions I've made so far. I love what I do. My blog is my life.
Old pic from 7 years ago when I first started blogging full time!
Can work in my bathrobe all day. LOL
It has opened up so many doors for me, and I've had so many rewarding experiences. From travel, to fashion, food, make up... the list goes on.
Here are some of the projects I am working on or have completed just this year alone (and it's only April!)
In January, as part of my engagement with Final Sip, I had the opportunity to learn some cocktail mixing skills from Ah Sam (Ah Sam's Cold Drink Stall in Boat Quay).
In February, one of my best memories was attending the BagCharmLove tea party. I got the chance to meet some of my readers. And I was so happy to see how much BCL has accomplished. I'm proud to have been modelling their HL inspired collection for more than a year already.
In March, I just completed my designs for the HollyJean X ClubCouture 2014 collection. You can view my previous designs in 2013 here. This is the third year that ClubCouture has given me the wonderful opportunity to design my own collection of clothes. It is being manufactured and will be launching real soon. I'm so excited!
And currently, I'm going through a total overhaul at Q&M medical. I'll be having dental work, health checks, and skin rejuvenating facials for the next few months. This is a project I'm doing in partnership with MyFatPocket. It's so much fun and makes me a better, healthier person too.
Of course, it wasn't easy getting to this stage in my blogging career. I worked so hard for it. In the beginning, you have to knock on so many doors, just to get one to open for you. But once your efforts start paying off (could take years), you will find that so many doors start opening for you, you don't have to go knocking anymore.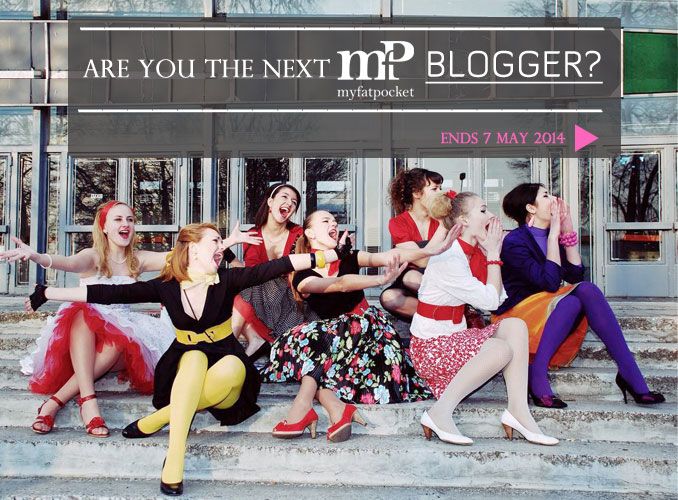 If you are a blogger now or you want to start blogging and earning. Here's your big break! MyFatPocket is looking for their next resident blogger. If you win and get to be a MyFatPocket blogger, you will win some fabulous prizes... AND... you start getting paid $$$ as their resident blogger.
(Don't have to go knocking on doors like I did when I first started blogging!! This is a great opportunity for you!)
I am not a MyFatPocket blogger, but I have been writing articles for their Love & Sex column for many years now. And I can say, that if you need direction and guidance, join them. They will understand you. Not to mention the huge viewership and network that MyFatPocket has built up over the years, will open up many doors for you, if you become one of their resident bloggers.
Click here to find out more about this contest. Good luck, girls!