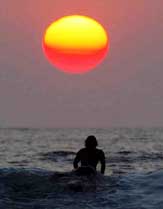 This is the first of an expected several posts on Bali.
Skye, Chris (his buddy from UK) and I are booked for Bali from the 7th to the 11th of June.

Right in the tourist trap of Kuta Beach.
Yeah I have read about how that place is shit, with touts and crowds. And you can get much more idyllic beaches elsewhere on Bali. But Skye doesn't want to be out in "no man's land". So KUTA it is.
I've been reading up about Bali.
One thing that I never knew about Bali -
KUTA COWBOYS!
These are lean, bronze bodied, local surfer boys who are basically beach bums by day and gigolos by night (apparently very affordable rates). And because a great majority of these boys are on Kuta Beach (where clueless tourists congregate), they became known as KUTA COWBOYS.
Amazing. Kinda like the sleaze in Bangkok and other 3rd world-esque countries but only this time the tables have turned. It's the men who are down there.
They mostly prey on older more mature women. In their 30s and up (obviously ones with more $ and who crave attention and not some teenager on a budget holiday who can find a shag at any pub she wants), and these women (usually white australian women as they are in abundance there) are so smitten by these cowboys... they not only Ride them and have a little holiday fling, but a good number end up marrying them (for a small sum, of course!)
Go google it! You'd read stories of women divorcing their husbands for a Kuta companion. I think they're being very naive... but hey I'm not in the position to understand them, maybe something was lacking and they have found it in these bronzed gigolos.
Interesting. Will look into the matter when I'm there. Meanwhile, expect posts to be about surfing, drinking and shopping and beach stuff and possibly that special mushroom omlette (shhhh!) .